What is Holistic / Integrative Medicine?
My Path to Becoming a Holistic Veterinarian
When we are ill, we usually think about how to get better. Modern medicine has come a very long way and there are many tests that can be run to determine why we are sick and a multitude of medications available to help us and to save lives.
My veterinary education was grounded in this type of medicine and I feel incredibly fortunate to have had an excellent education to serve me well during my veterinary career. So what has led me to want to focus on my patients in a different way? It all goes back to when I was about 20 years old. I had a back injury and I was in a lot of pain. I went to multiple doctors, including specialists, and no one could figure out what was wrong and no one could give me anything to stop the pain. Somewhere along the line, I learned about acupuncture and decided to try that.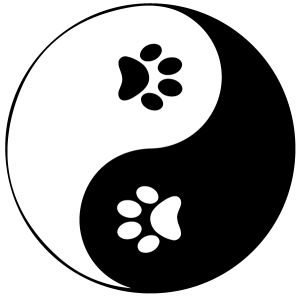 Please remember that this was many years ago when very few even knew what this was and very few people were even trained to performe acupuncture. I was lucky enough to find a doctor who did and amazingly enough after several treatments, my pain disappeared. Fast forward six years and while in veterinary school, I discovered that acupuncture was being performed on animals! I was immediately drawn to this and vowed that after graduation I would become certified in veterinary acupuncture. In 2005, I became a Certified Veterinary Acupuncturist and my veterinary career was forever changed.
Learning acupuncture and the foundations of Chinese medicine taught me that my patients are more than just a set of symptoms. And their caregivers, their pet parents are more than just owners. I began to see that I not only needed to treat illness but also to prevent illness by looking at my patients (w)holistically. What are their needs as a whole vs just prescribing medications to alleviate signs. This is how I started down the path to becoming a holistic veterinarian, using integrative medicine.
Ideally this begins before a pet becomes ill. For puppies and kittens the holistic foundation begins by thinking about how to prevent illness. Guiding discussions about appropriate vaccination schedules, vaccination titers, nutrition and enhancing immune function are vital when treating young patients.
Our Veterinary Goal to Determine the Why
When a pet does become ill, it is the holistic veterinarian's goal to determine the "why". A very simple issue can in reality reflect a much more serious condition and it is in addressing the root cause that we are able to provide not only recovery but also  prevention. I often liken this to peeling the layers of an onion – we resolve the surface issue only to uncover another concern; but as we continue peeling, we finally arrive at the root cause and patients clearly benefit with increased quality of life as well as longevity.
There are many ways to accomplish this lofty goal and I want to be clear that holistic medicine does not abandon Western medicine. It is with the integration of both Western and other non-traditional modalities that we are able to help patients. This is the essence of how I practice – I look at the whole picture to determine the best course for that particular patient and for that particular pet parent. Not only is medical history important but nutrition, environment, bond with the pet parent and more are all important in determining the best course of therapy for that particular pet.
Vaccinations and bloodwork and preventive Western medicine are still very much a part our practice. But each pet is viewed as an individual – there are no "cookie-cutter" protocols as we also always honor the philosophical beliefs held by our clients.
Some options for treatment other than Western medicine can include Chinese herbal therapy, Food Therapy, Western herbal therapy, glandular therapy, acupuncture, muscle testing, Reiki, Ozone Therapy, essential oils, massage, homeopathy, flower essences and more. And options for diagnostics which will guide our decision making include vaccination titer results, nutritional saliva testing and Vitamin D testing.
Holistic Medicine Today
Over the past 15 years, I have learned a great deal from so many generous holistic veterinarians who have taught me so much through seminars, conferences and further certifications. It is with this knowledge that I feel I have helped patients help themselves and in doing so, they are healthier physically and emotionally and their pet parents feel a stronger bond and love for their pet.
Here are some additional resources regarding holistic veterinary medicine that may help you to understand further it's benefits.